Tutoring is available daily during both lunches. Utilize this information to help get yourself back on track.  It is never too late to turn things around!
Open the flyer to view the schedule.    LunchTutoringFlyer 19-20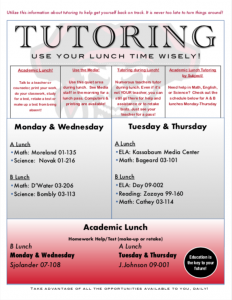 Use your lunch time wisely!
Academic Lunch: Talk to a teacher or counselor, print your work, do your classwork, study for a test, retake a test or make up a test from being absent!
Use the Media Center: Use this quiet area during lunch.  See Media staff in the morning for a lunch pass.  Computers and printing available.
Tutoring During Lunch: Many teachers tutor during lunch.  Even if it's not YOUR teacher, you can still go there for assistance or to retake tests.  Just see your teacher for a pass.
Academic Lunch Tutoring by Subject: Need help in Math, English, or Science?  Check out the schedule below for A & B lunches Monday – Thursday.